7 Card Solitaire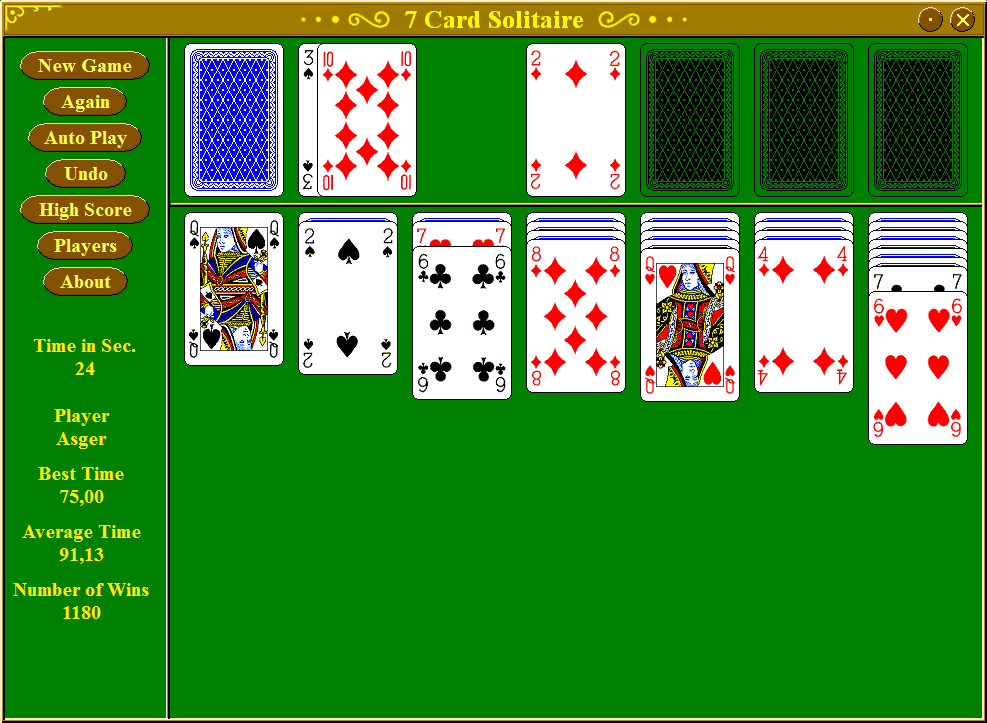 7 Card Solitaire
Is a replacement for the Solitaire game (sol.exe) that
comes with the Microsoft windows installation.

7 Card Solitaire uses real scanned card and have: Full undo,
Auto play, Highs core list, Player list + an Accurate timer.
It keeps track of: Number of wins, Best time and Average time.
It runs on windows 9x, NT, 2000, ME, XP, Vista and 7
Most of this game is straight forward and self explaining,
except for these four things:
Settings: you find in the About dialog.
Escape: Stops the game when Auto playing.
Double-Click: Moves card to done stacks.
If you check "Stop on Success" you can then use Auto Play to find games that are guarantied success, that is if you are as good as the game.;-)
When 7 Card Solitaire stops, you just press the Again button.
There is no installation for this program, you just unpack the Solitaire.zip and run the program Solitaire.exe.

Download. Solitaire.zip (453KB)
Uninstalling: Just delete Solitaire.exe and remove this key from registry:
HKEY_CURRENT_USER\Software\Asger-P\7CardSolitaire
This kind of program goes by severals: Kabale 7 Kabale Solitaire 7 Card solitaire etc.